Family dinner last night was amazing! I should've taken pictures of our food spread but this place was super nice & quiet & I felt like I would get in trouble if I took my phone out. We all
acted
were our mature and fancy selves.
Our food took a while so I decided to open presents first.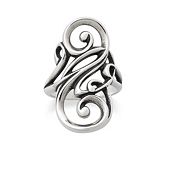 My Sister got me this beautiful ring
from James Avery.
Since its a little hard to read...
"I found the ABSOLUTELY PERFECT
Birthday gift for you, I mean it was one of a Kind.
It was you! Then I turned my back for Just a SECOND
And someone else snatched it up! "
& Inside....
I died. Too funny!

My brother & his girlfriend think I am a Princess
or something...
Corbin points me out over there on the left...so funny.

& I got some spending money... or money to pay off the shopping spree I went on last week.
But I am really wanting a new purse...see below.... decisions decisions.
Brand: Big Buddha & Under $100.00- Not too pricey!






Which one do you like the best?
Friday cannot get here fast enough!
This weekend I have a condo in Galveston with some of my best girl friends.There are tons of things to do in Galveston... but the beach & water slides are a no-go. AND the forecast is showing possible rain so I am praying that the weather is ok.
Here are a few options I have in mind...
Moody Gardens Festival of Lights
: With Ice Skating and over 100 sound-enhanced & animated light displays.
I swear I am not turning 12.
Dickens On the Strand
: A Victorian Holiday Festival with tons of entertainment and great food.
Side Story: My Nana & Papaw used to have a Bed & Breakfast in Galveston and each year for my Birthday I chose 5 friends to go stay the weekend at their house and we went to the festival. I remember it being a blast.
& Several Dive Bars
... Galveston residence are eclectic (that word works there right?). I could people watch all night. You have your "surfers" (lets be real, Galveston doesn't have the most ideal waves for surfing), college students who attend Texas A&M Galveston & old people with impeccable fashion sense.
AND we can always play games and consume beverages at the condo if the weather ends up being nasty. Whatever we do will be fun!
This weekend is guaranteed to be a blast and I just cannot wait to get a little crazy with my favorite people!
Tonight
I am off to get this hair of mine cut & colored. I ALWAYS drive to the woodlands to get my hair done by my lovely friend Calli but ain't nobody got time for that this week so I am trying a new place tonight. I feel like I am cheating on her a litte bit and she will totally know when she sees me this weekend. But she will understand. It needs to be cut more than anything. I have noticed when I get my hair cut every 6 weeks it is healthier and grows faster. It has been 3 months since I had a trim so I am desperate at this point. These split ends are out of control.
Enough rambling for now. Thanks for stopping by!
Happy Thursday!!